![endif]-->
Lin meng, director of the modern supply chain research institute of the research institute of the Mi
Lin meng, director of the modern supply chain research institute of the research institute of the Mi
skytire supply chain
On the morning of September 4, Lin meng, director of the modern supply chain research institute of the research institute of the Ministry of Commerce, leaders and experts from the provincial modern supply chain alliance and the municipal bureau of commerce visited zhejiang skytire  supply chain for field research.
In the company hall, chairman Wang dingjie introduced the company's development and operation mode to Lin meng director and others. Analyzes the pain points of commercial vehicle tire industry, as well as the head sheave cut tire supply chain of beginner's mind and determination to solve the pain points, and by pulley for more than two years of upstream and downstream of the supply chain coordination and decentralization of the phased results, not only to achieve transformation and upgrading of the whole industry chain and the authors efficiency, guarantee the whole chain costs fell by 15%, improve efficiency of 30% or more, to promote the traditional industry supply chain to digital, intelligent and all-round development of the ecology.
In the conference room, issued on May 28, 2018, the ministry of commerce of the implementation of 2018 circulation of the construction of the modern supply chain system notice the two sides are discussed, as a pulley on the modern supply chain new ideas, new technology, new mode of supply chain enterprise, in the "smart auto parts supply chain construction project" as a main chain enterprises to declare and passed, surrounding the project construction stage results, vice President Xu Caiqin made a special report for the research experts and leaders.
Director Lin meng after hearing the report, said that a good modern supply chain mode will bring prospective development of industry and play a leading role, the operation mode in the chain of supply chain pulley is played a demonstrative role, in the specific flow of supply chain system project implementation, to further play to the status of the main chain, speed up the construction progress. At the same time, in terms of project investment, the fund should be used in place and the compliance should be ensured, so as to promote the confidence of enterprises in innovative business construction of circulation supply chain projects, guide enterprises to apply modern supply chain technology to traditional industries, and let enterprises have more discourse power in the world competition.
Finally, Chairman Wang dingjie thanked director Lin meng for her attention to Skytire supply chain. He said that Skytire supply chain will attach great importance to the intelligent auto parts supply chain construction, give full play to the leading role of "chain Lord" enterprise, accelerate the supply chain of each section of each main body interaction connection and data flow, the collaborative sharing of resources, integration, supply chain, the development of the industrial chain, promote the realization of industry supply chain in quality, and the synergistic authors.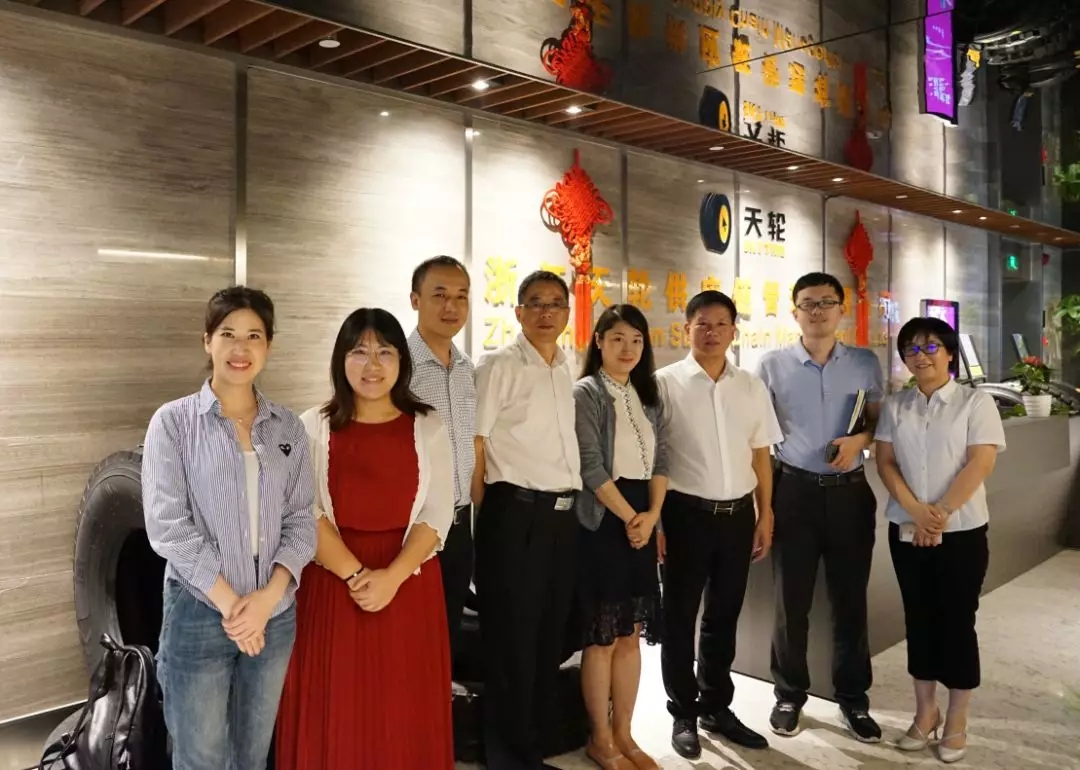 Skytire senior leaders took a group photo with the research leaders and experts.
---
http://en.skytire.cn/3/article_306.html